30+ Best Birthday Wishes To Send Your Friends and Besties
Well, it's that time of year again, your friend's birthday! A great day filled with cake, gifts and photo-worthy moments. When it's time to get ready, don't let the opportunity slip by without properly gushing about how amazing your friend is! Let them know how special they are with a card and sweet sentiments. If you need some ideas, you've come to the right place! Here are 80 best birthday wishes for a friend or your best friend that you can tweak and personalize to make them feel extra special.
From thoughtful, heartfelt messages to silly, goofy one-liners, you're sure to find something that's just right for your friends! The right birthday card will let them know how much they mean to you. It's the perfect way to express your love and gratitude for taking another trip around the sun.
Include these birthday messages with a gift or stand-alone card. Jazz them up with fun emojis or sentimental inside jokes. Just remember, it's the thought that counts!
30th birthday wishes for a friend
I hope your birthday this year is as amazing as you are my friend. Wishing you all the best on your special day! Have a wonderful 30th birthday!
The best thing about having you as my friend is that I know that life has nothing to stand in my way. You will always be there for me. Wishing you nothing but the best on your 30th birthday!
My friend, there is no one else I would rather spend my time with than you. You make every day an adventure. I can't wait to see what next year has in store for us! Happy 30th Birthday!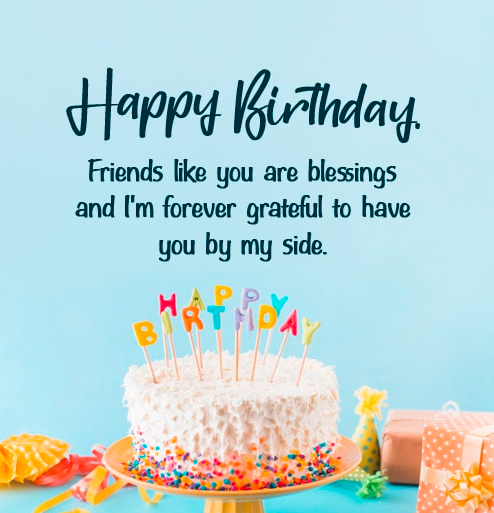 I don't know what I would do without you, my friend. You have been with me through thick and thin. I can't imagine my life without you in it. Best wishes to you on your 30th birthday!
Thank you for being such a great friend. I know that no matter what happens in life, I can always count on you. Wishing you a wonderful 30th birthday!
Happy birthday my dear friend! You make the world a better place just by being in it and I feel so blessed to know you. I hope you have a birthday that is as wonderful as yours.
I am so glad that we have been such good friends for so many years. I know our friendship will grow stronger with each passing year. Happy 30th birthday to you!
You have always been there for me when I needed you, and I know you always will be. That's what true friends are for. Happy 30th birthday to you!
I know we haven't always seen eye to eye, but I've always admired your honesty and your willingness to tell me the truth, even when it wasn't what I wanted to hear. Happy 30th Birthday!
Happy 30th birthday, my amazing friend! You deserve all the good things life has to offer and I sincerely hope your birthday is the start of a happy and successful new chapter.
Happy 30th birthday my friend
Happy 30th Birthday! You are a shining example of what it means to be an adult. Enjoy this new era with grace and joy.
Congratulations on turning 30! Your life has just begun, and I hope you look forward to more amazing experiences in the next few years.
Just because you're an adult doesn't mean the fun stops. Here's wishing you a wild and wonderful 30th birthday my friend!
Congratulations on reaching this milestone in your life! You have so much life experience to look back on, and I can't wait to see what the next 30 years will bring.
Happy 30th birthday my friend! You are just starting your amazing journey into adulthood, enjoy every moment and make amazing memories along the way.
Happy 30th birthday to you! May you celebrate this day with friends and family, creating many wonderful memories that will last a lifetime.
Another year older, another year wiser! Happy birthday to you on your 30th birthday, my dear friend. Cheers to all the great things coming your way!
Wishing you love, laughter and happiness on your 30th birthday! You deserve it all.
So happy to celebrate my 30th birthday with you! Here's to a great year ahead! Happy Birthday!
Happy 30th birthday, friend! I hope this year is filled with all the joy, happiness and success you could ever hope for!
On your 30th birthday, I just wanted to tell you how much I appreciate and value your friendship. Here's to many happy years to come!
A very happy 30th birthday to your favorite person in the world! I hope you have a day that is as wonderful as yours, my friend!
I can't believe it's been 30 years! Time flies when you're having fun, huh? Happy birthday, friend!
Happy 30th birthday to your amazing friend! You are one of a kind and I love your friendship more than you will ever know!
Happy birthday friend! I hope your 30th year is filled with nothing but smiles, laughter and lots of good times!
To my dearest friend, happy 30th birthday! You are a special person in my life and I hope your birthday is as wonderful as you are!
Funny 30th Birthday Wishes For Friend
They say life begins at 30… so I guess that means you're just getting started! Happy birthday and best wishes for a great year ahead!
Don't worry, being 30 isn't so bad. You are only one day older than yesterday.
Happy 30th Birthday! You are now officially in your thirties!
I am sure this birthday has made you mature enough to take your own decisions. Happy birthday dear friend!
I hope that after reading this article you have found the best 30th birthday wishes for your friend that you can send him.
Also Read:
50+ Best Heartfelt Birthday Wishes for Son from Mom
Facebook Vip Bio Stylish Symbols 2023 – Facebook bio style 2023
100+ Facebook VIP Bio | Stylish Bio for FB | Facebook VIP Bio Stylish
Bangla Funny Caption Collection for Facebook 2023
Facebook Bio Style | Facebook Vip bio Stylish 2023
30+ Best Birthday Wishes To Send Your Friends and Besties